Farm subsidies 'must be earned' – Gove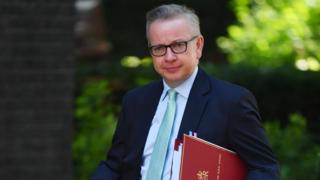 Farm subsidies will have to be earned rather than just handed out in future, the Environment Secretary Michael Gove is expected to say in a speech later.
Farmers will get only get taxpayers' cash if they agree to protect the environment and enhance rural life, he will say.
The move is part of what he calls his vision for a "Green Brexit".
Farmers' leaders were expecting a change, but want the total cash available to farms to stay the same.
The current system which pays farmers based on the amount of land they own will go after Brexit, Mr Gove will promise.
He is expected to say: "Leaving the EU gives us a once-in-a-lifetime opportunity to reform how we care for our land, our rivers and our seas, how we recast our ambition for our country's environment, and the planet. In short, it means delivering a Green Brexit.
"The Common Agricultural Policy (CAP) rewards size of land-holding ahead of good environmental practice, puts resources in the hands of the already wealthy, and encourages patterns of land use which are wasteful of natural resources."
The issue was highlighted last year when BBC News revealed that taxpayers are paying more than £400,000 a year to subsidise a farm where a billionaire Saudi prince breeds racehorses.
The Newmarket farm of Khalid Abdullah al Saud – owner of the legendary horse Frankel – is among the top recipients of farm grants, along with the Queen.
Environmentalists will applaud the promise of change; they blame the CAP for the huge loss of wildlife in the British countryside.
The question will be what detailed policy takes its place.
The government has promised to keep overall payments at the same level until 2022.
The Tenant Farmers' Association wants to keep the £3bn total subsidy after that, but would like the cash to be split between enhancing the environment, creating infrastructure to develop farm businesses, and promoting British food.
The Country Landowners Association also accept the need for reform and are launching their plan for a Land Management Contract.
Their president Ross Murray said: "Payments are necessary because there is vital work to be done to manage soils and preserve the productive capacity of the land; to plant the trees we need; to clean and store water; to support the farming practices that make up our iconic landscapes or to make it possible for people to enjoy our beautiful natural spaces.
"These responsibilities bring costs and burdens that other businesses don't have to bear."
Mr Gove's speech will make similar noises. He will say: "There are very good reasons why we should provide support for agriculture. Seventy per cent of our land is farmed – beautiful landscape has not happened by accident but has been actively managed.
"Agriculture is an industry more susceptible to outside shocks and unpredictable events – whether it's the weather or disease. So financial assistance and mechanisms which can smooth out the vicissitudes farmers face make sense.
He will also express a desire to protect the "human ecology" of Britain's highlands, where farming without subsidy is impossible.
This won't please radical environmentalists, who want Mr Gove to save money (and in their view enhance the environment) by letting sheep farming wither, and allowing the uplands to revert to natural forest.
Shy no more
Mr Gove's comments will be set in a broader environmental context. Previously he has referred to himself as a "shy environmentalist"; in the speech he will refer to himself as plainly "an environmentalist".
The eloquent Secretary of State charmed the annual party of the think tank Green Alliance last week with references to the environmental books he had read.
In his speech he'll say: "I am an environmentalist first because I care about the fate of fellow animals, I draw inspiration from nature and I believe we need beauty in our lives as much as we need food and shelter. Our approach should be, in Byron's words, to love not man the less but nature more."
But some are still sceptical about his credentials, especially concerning wildlife protection.
The UK is currently a member of Natura 2000, a scheme that treats wild areas of Europe as a common European heritage.
Any government wanting to develop on a Natura 2000 site must apply for permission from the EU. Mr Gove himself expressed a recent wish whilst a back-bencher to build homes on the protected Surrey Heaths to bring down housing costs in his constituency.
Craig Bennett, head of Friends of the Earth, welcomed Mr Gove's words, but said: "Current EU rules aimed at tackling air pollution and climate change and protecting our birds, bees and nature must not be watered down, and mechanisms must be put in place to enforce them post-Brexit."
Mr Gove's department declined to answer a question from BBC News if he still wanted to build on the Surrey wildlife site.
Farmers and environmentalists alike will be studying the details of his policies as they emerge.
Follow Roger on Twitter.