Charlie Gard case: Doctors can withdraw baby's life support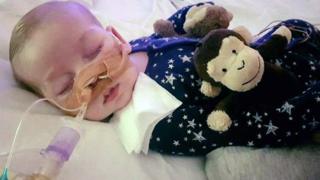 Doctors can withdraw life support from a sick baby with a rare genetic condition against his parents' wishes, a High Court judge has ruled.
Specialists at Great Ormond Street Hospital said eight-month-old Charlie Gard has irreversible brain damage and should be moved to palliative care.
His parents Connie Yates and Chris Gard had wanted to take their son to the US for a treatment trial.
But the judge said it was in Charlie's best interest to remove life support.
Mr Justice Francis said he made the decision with the "heaviest of hearts" but with "complete conviction" that it was the correct decision for the child.
Charlie, who was born on 4 August, has a disorder called mitochondrial depletion syndrome which causes progressive muscle weakness.
Ms Yates and Mr Gard, of Bedfont, west London, had told the Family Division of the High Court they wanted to give their baby "one chance of life".
Mr Gard was "shaking and visibly very upset" as he waited for the judgment, BBC News correspondent Helena Lee, who was in court, said.
When the judge ruled the treatment could be withdrawn, he shouted "no" and both he and Ms Yates broke down in tears.
Their solicitor Laura Hobey-Hamsher said they were "devastated" by the decision and could not understand why the judge had not "at least given Charlie the chance of treatment".
The couple had set up a crowdfunding campaign to fund the treatment abroad which has raised more than £1.25m.