Top universities face strike action over pension changes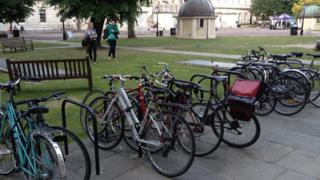 Top universities could face strikes next month after staff backed action over changes to their pensions.
Overall, 61 universities could be affected after members of the University and College Union backed industrial action.
The union says changes to the Universities Superannuation Scheme could cost an average lecturer £200,000 over the course of their retirement.
The umbrella group Universities UK called the result disappointing.
The UCU says its higher education committee is meeting to discuss the results and plan an industrial action strategy if further talks with university bosses fail to deliver a compromise.
Pension cuts
Members are angry at plans to change their pensions from a defined benefit scheme, where they would have a guaranteed income in retirement – to a defined contribution scheme, where their pensions would be subject to changes in the stock market.
Staff at 68 universities are members of the Universities Superannuation Scheme.
Of these, 61 voted overwhelmingly in favour of action, with 88% in favour of strikes and 93% in favour of action short of a strike.
The overall turnout was 58%.
The institutions affected include Oxford, Cambridge, Imperial College London, UCL, Edinburgh, Glasgow, Manchester and York.
At seven institutions the turnout was below the 50% required by law for a ballot to be valid.
The union said it hoped the "overwhelming mandate" would focus universities' minds and that vice-chancellors would now pressure Universities UK to agree a deal.
It said it would be happy for talks to be extended to try to resolve the issue without industrial action.
'Funding challenges'
Last year the Universities Superannuation Scheme was reported to have a £17.5bn deficit.
A Universities UK spokeswoman said a solution to "significant funding challenges" facing the scheme needed to be found.
"We should be under no illusion, this is not a problem that will go away if ignored.
"Without reform now, universities will likely be forced to divert funding allocated from research and teaching to fill a pensions funding gap.
"The option of no reform is a dangerous gamble. It is a risk that employers cannot take."
Staff at institutions which became universities after 1992 are members of a separate pension scheme which is unaffected by the proposed changes.