UK services sector beats forecasts buoyed by new work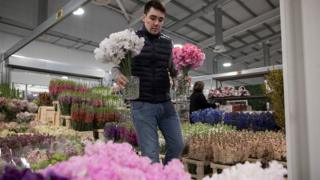 Activity in the UK's dominant services sector rose at a faster-than-expected pace in March.
The Markit/CIPS purchasing managers' index (PMI) for services rose to 55, compared with economists' expectations of a marginal increase to 53.5.
The services sector, which accounts for three-quarters of the UK economy, said business activity and incoming new work grew at the strong rate so far in 2017.
However, cost pressures led to the fastest rise in prices since late 2008.
The pound rose 0.30% against the dollar to $1.2478 after the survey found that business activity expanded at the quickest rate since last December.
Respondents were also optimistic about the year ahead, while there was evidence that the fall in the value of sterling since the UK voted to leave the European Union had led to new sales inquiries from abroad and demand for overseas clients, especially in the US.
However, the pace of recruitment was "only marginal", with some companies saying tighter margins and rising wage bills meant that they were not replacing voluntary leavers.
Despite the rise in services activity, data out earlier this week showed that growth in the manufacturing and construction sectors eased in March.
Chris Williamson, chief business economist at IHS Markit, believes economic growth for the first quarter of 2017 will slow.
He said: "The survey data indicate that UK business activity growth regained some momentum after having slipped to a five-month low in February, but the upturn fails to change the picture of an economy that slowed in the first quarter.
"The relative weakness of the PMI survey data compared to that seen at the turn of the year suggests the economy will have grown by 0.4% in the first quarter, markedly lower than the 0.7% expansion seen in the fourth quarter of last year."