Trump pulls trigger on NAFTA negotiations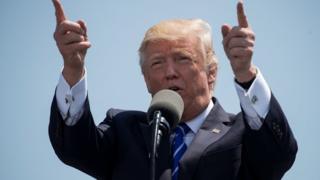 The US plans to start talks with Mexico and Canada over Nafta "as soon as practicable", the Trump administration said on Thursday.
The letter sent to congressional leaders provided formal notification of the administration's intent to redo the 1990s trade deal.
US President Donald Trump blasted Nafta during his campaign as a job "killer".
In the letter, US Trade Representative Robert Lighthizer wrote the deal needs "modernisation".
Canadian federal ministers have been travelling frequently to the US in recent months to lobby America lawmakers whose states have strong trade ties with Canada on the importance of the cross-border economic relationship.
Canada's Foreign Affairs Minister Chrystia Freeland has also been in close contact with her Mexican counterparts on the Nafta file and will be in Mexico next week.
Ms Freeland said in a statement on Thursday that the country remains "steadfastly committed to free trade in the North American region."
"We are at an important juncture that offers us an opportunity to determine how we can best align Nafta to new realities – and integrate progressive, free and fair approaches to trade and investment," she said.
The letter from Lighthizer, who was sworn in this week, triggers a 90-day period, meaning talks would begin in August at the earliest.
Mexico also said it expects a "constructive" negotiation.