Storm Harvey: Shell boss warns of 'major' impact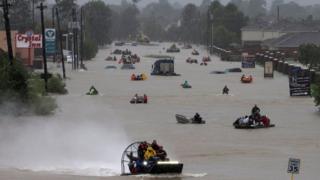 The chief executive of Shell, Ben Van Beurden, has said Tropical Storm Harvey is one of the biggest storms the oil firm has ever faced.
He told the BBC's Simon Jack the storm was a "major event" for the industry and Shell's staff in Houston, Texas.
The storm, which earlier achieved hurricane status, has ripped through the US energy industry around Houston.
Shell, which has its US base in the city, was forced to re-house some of its staff and shut two plants.
Mr Van Beurden said the storm ranks "right at the top" in terms of major disruption to the company.
Large parts of the Texas city are under water, and more than 20 people are reported dead.
Thousands of people there have fled their homes in search of emergency shelter amid severe flooding.
Mr Van Beurden said: "We've all seen the pictures. Many, many of our people – as with others as well – have been displaced… We've had to put people up in temporary accommodation."
"The disruption for our staff has been very substantial," he added.
Shell was forced to evacuate a deepwater facility, shut a large refining petrochemicals complex, and has faced major disruption in the shipping channel in the area.
However, Mr Van Beurden said he thought the impact on oil production – and the price of oil – would be "limited".
"I don't expect to see some disruption on world markets as a result of this," he said.