Scania fined 880m euros over price collusion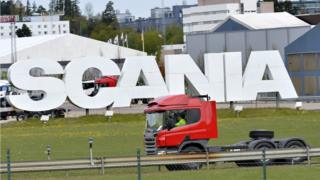 Scania has been fined 880m euros (£771m) by the European Commission for colluding with five other truckmakers over prices and emissions costs.
The other five companies were given a record 2.9bn euro fine in July 2016 but Scania held out and would not co-operate with the investigation.
The EU antitrust regulators ruled that Scania, owned by Volkswagen, and the other companies colluded for 14 years.
Volkswagen's Man, Daimler, Volvo, Iveco and DAF admitted to taking part.
Man avoided a fine after blowing the whistle on the cartel and the others had their fines cut by 10% for pleading guilty.
The companies had been accused of colluding to fix prices and avoid the costs of stricter pollution rules around emissions by passing them on to consumers.
"Instead of colluding on pricing, the truck manufacturers should have been competing against each other – also on environmental improvements," European Commission competition chief Margrethe Vestager said in a statement.
The Commission added that the plan was formed at a secret meeting between senior managers in a "cosy" Brussels hotel.