Ryanair admits management 'failure'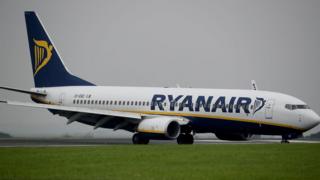 Ryanair boss Michael O'Leary has said the firm is facing a "significant management failure" as it struggles to cope with massive flight cancellations.
The admission came at the budget airline's annual general meeting, which is being held in Dublin.
Ryanair is cancelling 40-50 flights every day for the next six weeks, after it admitted it had "messed up" the planning of pilot holidays.
A group of Ryanair pilots has rejected a cash bonus to work extra days.
Ryanair had offered captains a one-off payment of £12,000 or 12,000 euros, and first officers £6,000 or 6,000 euros, but they said they wanted new contracts and better working conditions instead.
In response, the pilots wrote a letter saying: "The pilot market is changing, and Ryanair will need to change the ways which the pilots and management work together to ensure a stable and common future for everyone."
New contracts, it says, "should help stop the large number of colleagues who are leaving for "greener pastures".
Ryanair has said it expects to have re-accommodated more than 95% of customers affected by cancellations by end of this week.