Rangers fraud trial: Craig Whyte found not guilty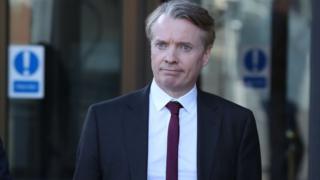 Craig Whyte has been found not guilty of acquiring Rangers football club by fraud.
The former owner bought Rangers in May 2011 for £1 while agreeing to take on obligations, which included paying an £18m bank debt and £5m for players.
Mr Whyte was acquitted of using the club's own money for the deal while claiming the funds were his.
The jury also found him not guilty of breaching company law to achieve the takeover.
Ticketus loan
Jurors at the High Court of Glasgow were told how Mr Whyte struck a £1 deal to purchase Sir David Murray's controlling stake at Ibrox.
As well as the £18m bank debt and money for players, Whyte had agreed to providing £2.8m to settle a "small tax case" bill, £1.7m for stadium repairs, and £5m in working capital.
Prosecutors had alleged that Whyte pretended to Sir David, and others, that funds were available to make all required payments.
The jury were told Mr Whyte had only £4m available from two sources at the time, but took out a £24m loan from Ticketus against three years of future Rangers season ticket sales, before he owned the club.
The second charge under the Companies Act centred on the £18m payment between Mr Whyte's Wavetower company and Rangers to clear a bank debt.
Mr Whyte had denied both the charges against him.
His defence QC, Donald Findlay, had earlier told the jury that Mr Whyte had been made to look like a "pantomime villain".
He had said the Murray team had been "more focused" on securing a sale than on checking out the source of the money.
The defence QC had also pointed out that there had been "no loss" to Sir David Murray in the buyout.