Next sees first annual profit fall in eight years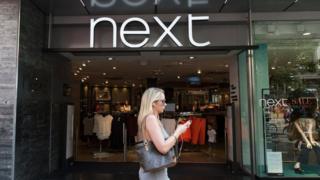 Next has reported its first fall in annual profit for eight years and warned of "another tough year ahead".
Pre-tax profit at the clothing and homeware retailer dropped 5.5% from £836.1m to £790.2m last year.
The firm, which had already warned profits would fall, said it remained "extremely cautious" about trading.
It said shoppers were shifting their spending away from clothing, at the same time as inflation was rising and incomes were being squeezed.
The profit fall in 2016 is the first for the retailer since the financial crisis of 2008.
Sales at Next's bricks-and-mortar business fell 3% to £2.3bn, as the retailer said shoppers continued to shift away from the High Street. Its online and catalogue business did better, with sales growing 4% to £1.7bn.
Next chairman John Barton said: "Trading conditions in the year ahead will continue to be tough, however I believe that by focusing on our core strengths, as we did during 2008, we will see Next emerge from this period stronger than before."
Retail 'malaise'
Next has "had a remarkable record of out-performing its main competitors", especially M&S, in the past eight years, said Bryan Roberts of retail consultancy TCC Global.
But the "general malaise" for retailers is now catching up with them, Mr Roberts told the BBC.
"We're spending less money on things and more on experiences or leisure," he said, adding that rising inflation and slowing growth in wages was also putting retailers under pressure.
There was also a "bit of an admission of guilt from Next" that they were "chasing the more fashionable end of the market and neglecting some of their core, mainstream ranges", he said.