M&S annual profits fall by 64% as revamp costs bite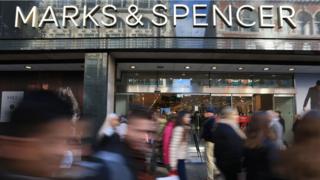 Profits at Marks and Spencer fell by almost two thirds to £176.4m last year following a costly business overhaul.
The retailer said that a decline in clothing sales and higher costs from opening new food stores were partly to blame for the 64% fall.
Sales were flat at £10.6bn in the year to the end of March 2017.
Chief executive Steve Rowe revealed that like-for-like sales in his first full year in charge fell by 1.9%.
The slide followed a 5.9% fall in the three months to April.
The fact that Easter fell later this year hit the company hard, although Mr Rowe added that the fall was also partly due to a push for more clothes being sold at full price.
Clothing and home sales revenue still fell by 3.4%.
Food performed better, falling just 2.1% in the fourth quarter.
Mr Rowe said the company remained "on track" with its turnaround plans announced last year, which include opening new food-only stores, selling clothing and homewares in fewer stores and cutting back on discounting.
"As we have made improvements to our clothing and home product and proposition, our customers have noticed. We are starting to stabilise market share and importantly have seen full price market share growth, as we removed excessive discounting. In addition, our new food stores continue to exceed our expectations," he said.
"As we anticipated, the planned restructuring of M&S has come with a cost and has impacted profits, but the business is still strongly cash generative and we reduced our net debt."
Excluding some one-off costs, profits were down just 10% to £613.8m.