McDonald's shares hit record as investors digest results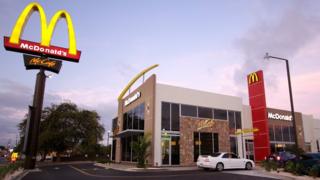 Investors have got a taste for McDonald's shares after the fast food chain reported better-than-expected profits in the first quarter.
McDonald's said profits grew by 8% to $1.2bn (£950m), helped by cost cuts, Big Mac promotions and an expansion of its All-Day Breakfast.
Its shares rose about 4% in early trade on Tuesday to hit a record high.
Sales declined for the eleventh straight quarter, but fell by less than analysts had expected.
The company's chief executive, Steve Easterbrook, unveiled new plans last month to win back and retain customers.
Mr Easterbrook said the first-quarter results showed McDonald's had a "sense of urgency across the business".
Revenue fell 4% to $5.68bn, although that was partly due to the sale of restaurants to franchisees as part of Mr Easterbrook's turnaround strategy.
Sales were higher than expected after growth in China and the UK, as well as the launch of its All-Day Breakfast in Canada following a similar rollout in the US in 2015.
Shares in McDonald's have now risen about 15% this year, giving the firm a market value of $115bn.