Interserve shares dive on new profit warning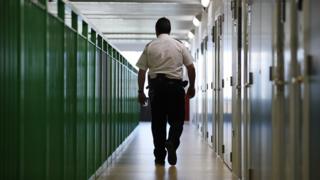 Shares in Interserve have plunged by a third after the construction and support services company issued another profit warning it said in trading in the third quarter had deteriorated.
The company added it might also breach its banking agreements.
Interserve said operating profit in the second half would be about half that of last year.
It has also made an additional £35m provision for its troubled energy-from-waste contracts.
Shares had already crashed more than 50% last month after it issued a profit warning.
The latest fall means its shares have fallen by more than 80% this year, valuing the company at just over £90m.
Interserve's energy-to-waste business has been by cost overruns, and the company has also been affected by delays in a Glasgow contract.
Chief executive Debbie White said there was "considerable potential for business improvement across the company".
"My team will focus on improving our margin performance in UK support services and ensuring good contract selection in UK construction, while reducing our cost base across the company," she added.
Interserve's order book was worth £7.4bn and recent contract wins included the Work and Pensions and Transport departments as well as the Ministry of Justice and Durham University.
The company employs about 80,000 people worldwide.