Halfords profits hit by weak pound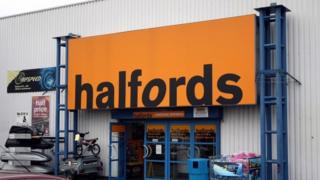 Annual profits at Halfords have been hit by the weak pound despite a strong rise in sales.
The car parts, bikes and camping retailer said pre-tax profits fell 10.5% to £71.4m for the year to March.
Revenue was up 7.2% to nearly £1.1bn, boosted by the acquisition of upmarket bike business Tredz/Wheelies. Like-for-like revenues rose 2.7%.
Chief executive Jill McDonald said Halfords gained market share in both motoring and cycling.
"Profit performance for the year was impacted by the weaker pound but our plans are well developed and I am confident this will be offset over time," she said.
It is the last set of results to be presented by Ms McDonald before she joins Marks & Spencer as head of non-food in September.
Chairman Dennis Millard said Ms McDonald was leaving a "strong team and a clear direction to drive future growth".
Halfords said higher import costs had largely been responsible for the drop in profits.
Shares rose 1.2% in early trading to 363p, valuing the company at just over £720m.