FTSE 100 rises as Direct Line boosted by discount rate change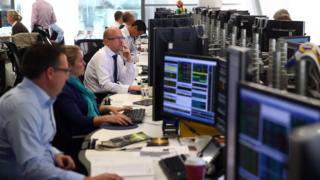 Shares in Direct Line were boosted by a change to the formula for calculating personal injury payments.
The government had originally proposed cutting the Ogden discount rate on personal injury claims from 2.75% to minus 0.75%. However, it is now suggesting a rate of 0%-1%.
Shares in Direct Line, which had said the original plan would cost it up to £230m, rose 3%.
The FTSE 100 index was up 4.15 points in early trade at 7,358.28.
In the FTSE 250, shares in Bovis Homes jumped 10% after the housebuilder announced plans to return £180m to shareholders through special dividends, and also scaled back the number of homes it planned to build each year.
ZPG – the owner of the Zoopla and uSwitch websites – was up 5% after it announced the purchase of comparison website Money.co.uk in a £140m deal.
But shares in Capita fell 5% as the company marked its 2016 operating profits lower after adopting new accounting standards.
The company said its 2016 operating profit was now £335m, down from its previous estimate of £481m.
On the currency markets, the pound was flat against the dollar at $1.3045 but fell 0.3% against the euro to 1.0917 euros.