European Central Bank keeps key interest rate on hold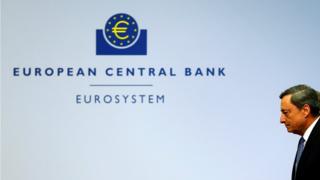 The European Central Bank (ECB) has kept its main interest rate on hold at zero for another month.
It also decided not to change the ECB's bond-buying stimulus scheme, which is already being trimmed to 60bn euros a month from 80bn euros,
Attention now turns to a news conference ECB head Mario Draghi will give later to outline the decisions.
Last month, Mr Draghi spoke of being "more optimistic" about the eurozone's economic health.
The ECB boss said that the 19-nation bloc was no longer being stalked by deflation.