Aveva to merge with Schneider Electric in £3bn deal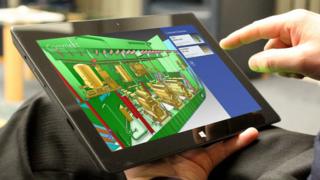 UK engineering software firm Aveva is to merge with the software arm of French energy group Schneider Electric, creating a company worth about £3bn.
Under the terms of the deal, Schneider will take a majority stake in Aveva, which will retain its base in Cambridge and stay listed on the Stock Exchange.
It is Schneider's third attempt in three years to combine the companies.
Aveva has recommended the deal to its shareholders and it is expected to be completed by the end of 2017.
The new company cover a wider range of sectors, combining Aveva's experience in oil and gas and power and Schneider's reach in the chemicals, food and beverage industries.
It will also have a greater global reach, with Schneider's exposure to North America added to Aveva's existing markets.
Aveva chairman Philip Aiken said the deal would create "a global leader in industrial software" while his Schneider counterpart Jean-Pascal Tricoire said it would produce "the right environment and structure for the software teams to aggressively develop their business".
A total of £550m from Schneider and £100m of excess cash from Aveva will be distributed to existing Aveva shareholders when the deal goes through.