Andy Burnham: North 'needs transport investment now'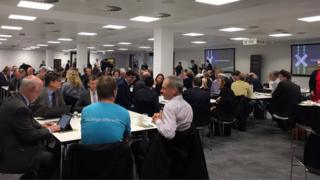 The north of England "needs transport investment now", the Mayor of Greater Manchester said as northern leaders gather at a transport summit in Leeds.
In a tweet, Andy Burnham said: "We are here with one loud, clear and strong voice – the North."
The meeting of political and business officials at Cloth Hall Court was a "packed house", he said.
Transport Secretary Chris Grayling had called for leaders to "take control" of their own transport networks.
Mr Burnham said: "This isn't about point scoring, it's about making the argument for the north".
Mr Grayling made the comments in an article in the Yorkshire Post ahead of the conference on Wednesday.
"The success of northern transport depends on the north itself," the transport secretary had said.
'Not a big challenge'
On Tuesday, former Chancellor George Osborne called for high-speed rail lines between Liverpool and Hull. Following his comments, Northern Powerhouse Minister Jake Berry said during a visit to Hull that HS3 "will happen" .
Among the delegates attending the event are leaders of Leeds, Newcastle and Manchester councils, Liverpool City Region Metro Mayor Steve Rotheram and business representatives.
Speaking at the conference, former economist Lord Jim O'Neill said: "It shouldn't be that big a challenge to put in infrastructure to make urban-based areas [in the north] as big as London."
He said transport was one of six key areas for the north – the others being education, skills, devolution, business and ambition – to focus on and called for the government to commit to funding in local infrastructure.
"You can put in a state-of-the-art train system but it won't deliver alone," he said.
Organisers have described the summit as an "unprecedented gathering" of leaders from councils and businesses who want more investment in local infrastructure.
It follows an announcement from the government last month that it was scrapping the planned electrification of railway lines in Wales, the Midlands and the north of England, which angered authorities and businesses.
Days later, Mr Grayling then backed proposals for Crossrail 2 – a new line linking north-east and south-west London – sparking further fury.